As the print­ing grew in scale, the sup­ply indus­tries also expand­ed. Scot­land was also home to ink mak­ers, type­founders and print­ing machine mak­ers who sup­plied the indus­try through­out the UK and beyond.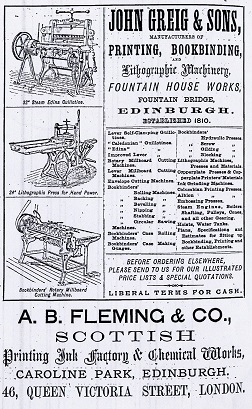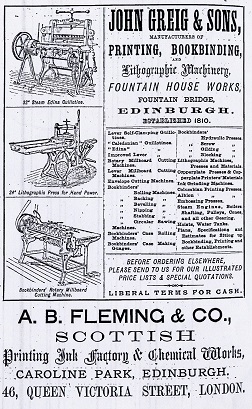 The ear­li­est print­ers made their own ink and type. With 19th cen­tu­ry advances in chem­istry, ink fac­to­ries devel­oped to meet the require­ments of new process­es and faster machines. Type­found­ing became a spe­cial­ist trade. 'Print­ers' engi­neers' made ink­ing rollers and tables, type cas­es, com­pos­ing sticks, chas­es, quoins, foundry equip­ment, binders' press­es, and the print­ing machines themselves.
Paper­making was a major indus­try in its own right, orig­i­nal­ly con­cen­trat­ed in areas with a good sup­ply of water both as a raw mate­r­i­al and to pow­er the machin­ery. The ear­li­est paper­mills in Scot­land were estab­lished along the Water of Lei­th, and lat­er impor­tant cen­tres of paper­mak­ing includ­ed the mills along the Esk in Mid­loth­i­an, espe­cial­ly in the Penicuik area, in Fife, West Loth­i­an and Aberdeenshire.