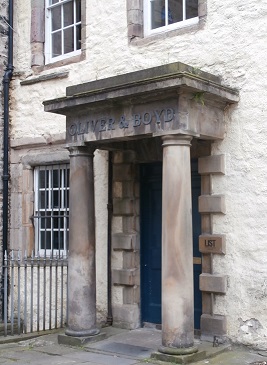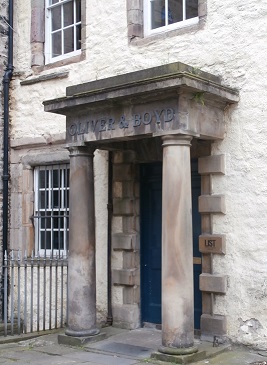 In the 19th cen­tu­ry the Scot­land became an impor­tant cen­tre for book print­ing, and at one time Scot­land's book print­ers were so active in the export busi­ness, that Scot­land claimed the title of 'print­er to the world'. Nation­al­ly and inter­na­tion­al­ly sig­nif­i­cant con­tri­bu­tions to the book trade were made by Scot­tish book print­ers and pub­lish­ers such as Edward Raban of Aberdeen in the sev­en­teenth cen­tu­ry, the Foulis broth­ers in eigh­teenth cen­tu­ry Glas­gow, William Smellie (print­er of the first Ency­clopae­dia Bri­tan­ni­ca) and the Mori­son fam­i­ly in Perth in the late eigh­teenth cen­tu­ry, and firms such as A & C Black, Black­ie, James Bal­lan­tyne, Oliv­er & Boyd, R & R Clark, T & A Con­sta­ble, Thomas Nel­sons, W & R Cham­bers, and William Collins.
The first news­pa­per print­ed in Scot­land appeared in the mid­dle of the sev­en­teenth cen­tu­ry. The Edin­burgh Gazette was first issued in 1680 and oth­er titles began to appear in the ear­ly eigh­teenth cen­tu­ry, such as the Edin­burgh Courant in 1705. The news in ear­ly Scot­tish news­pa­pers was main­ly reprint­ed from Lon­don news­pa­pers, even though this news was days old by the time it reached Scot­land. Local news was hard­ly report­ed at all. News­pa­pers were small and rel­a­tive­ly expen­sive, so had a small cir­cu­la­tion. At this time paper was heav­i­ly taxed, as were adver­tise­ments which occu­pied about half the space.
As print­ing press­es were set up through­out Scot­land, local news­pa­pers became more com­mon and by the end of the nine­teenth cen­tu­ry, most Scot­tish towns of any size had their own local weekly.
Ear­ly news­pa­pers were print­ed on the hand-press which was a labo­ri­ous process, lim­it­ing the num­ber of copies that could be print­ed. Friedrich König devel­oped a dou­ble cylin­der press for use at The Times in 1814 (one cylin­der rotat­ing while the forme moved for­wards, the oth­er when it was mov­ing back­wards): this ver­sion could achieve speeds of 1100 sheets an hour. The forme was held on the flat bed of the press and moved for­wards and back­wards against the sheet of paper wrapped around a cylin­der. The cylin­der rotat­ed over the forme as it moved for­wards but was lift­ed away as it moved back so that the sheet of paper could be changed. This type of press is known as a 'stop-cylin­der' press, and could achieve speeds of 800 sheets per hour. Such press­es also demand­ed improve­ments in the sys­tems used for ink­ing with robust ink­ing rollers and a sys­tem of pumps and rollers to dis­trib­ute ink even­ly onto the rollers that applied the ink to the forme. König also invent­ed an ear­ly per­fect­ing machine: this enabled two formes of type, rep­re­sent­ing the two sides of the fin­ished sheet of paper with­in the same oper­a­tion. As the sheets and lat­er webs or rolls of paper did not have time to dry between print­ing oper­a­tions, fur­ther devel­op­ments in ink and ink­ing sys­tems were need­ed to pre­vent set off (unwant­ed trans­fer of ink to paper).