Iron press­es could with­stand greater force, which was exert­ed on the larg­er plat­en by a more pow­er­ful range of levers, and thus enabled the print­ing of larg­er sheets at a time. In the sec­ond half of the nine­teenth cen­tu­ry the orig­i­nal flat-bed press was devel­oped into the mod­ern sheet-fed flat-bed or plat­en press­es. The flat bed was no longer nec­es­sar­i­ly hor­i­zon­tal, but might be slop­ing or even ver­ti­cal. The sheets of paper are still held in place by tym­pan and frisket as in Gutenberg's press, but on a steel slab, enabling greater pres­sure to be used. The forme and the sur­face to be print­ed are brought togeth­er for print­ing by mechan­i­cal action. Small­er press­es were oper­at­ed by hand, using a sys­tem of levers, and some larg­er ones by a trea­dle action, such as the Franklin press which orig­i­nal­ly made 1856.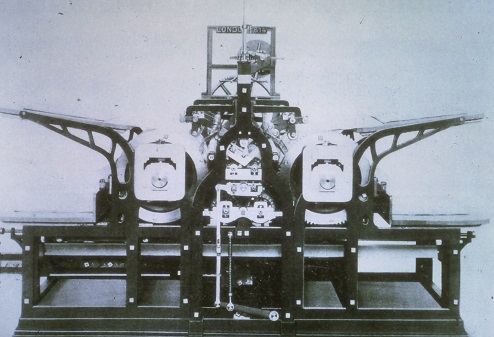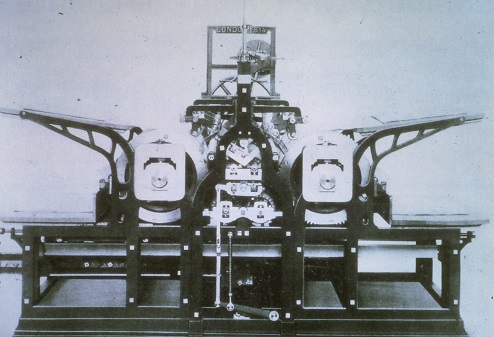 An inno­va­tion of the ear­ly years of the 19th cen­tu­ry was the use of a cylin­der to car­ry the paper. Friedrich König was a pio­neer in this field, devel­op­ing cylin­der press­es for the Times in Lon­don from 1814. The three main types are 'stop-cylin­der' in which the cylin­der stops while the bed of the press, con­tain­ing the forme, is returned; 'two-rev­o­lu­tion' in which the cylin­der con­tin­ues to revolve, mak­ing one rev­o­lu­tion to print as the forme moves for­ward, and anoth­er (in a raised posi­tion) while the forme returns; and 'sin­gle rev­o­lu­tion' in which the cylin­der also revolves at con­stant speed but only makes half a rev­o­lu­tion for each move­ment of the bed.
Thomas Nel­son, son of the founder of the Edin­burgh firm, devel­oped a rotary press which was demon­strat­ed at the Great Exhi­bi­tion of 1851. How­ev­er, the machine was nev­er patent­ed, so its inven­tor did not ben­e­fit from the many ver­sions which fol­lowed. The machine was fed by a web of paper, and the print­ing sur­face was formed by curved stereo­type plates mount­ed on cylin­ders. The print­ed paper was passed under a ser­rat­ed knife which cut the web into sheets. The orig­i­nal press was shown again at a trade fair in Leipzig, which led to it being impound­ed dur­ing the First World War (it was returned in 1919). It is now on show in the Muse­um of Scot­land in Edin­burgh. News­pa­per press­es were based on these prin­ci­ples for a hun­dred years.
The Wharfedale press is a 'stop-cylin­der' design, con­sist­ing of a trav­el­ling flat bed hold­ing the forme of type, which was passed under inkers. The first one was made by William Daw­son of Otley in Wharfedale, for the Glas­gow firm of G W McLaren. The machine and its name were nev­er reg­is­tered, and many oth­er firms have pro­duced ver­sions of the Wharfedale, and much updat­ed mod­els were still in pro­duc­tion towards the end of the twen­ti­eth century.
The Miehle press orig­i­nat­ed in 1887, invent­ed by Robert Miehle in Chica­go, was a two-cylin­der machine, which turned out to be espe­cial­ly appro­pri­ate for process work, and has been much devel­oped since its first appear­ance. Oth­er mod­els have since been devel­oped and export­ed wide­ly. Lat­er mod­els have includ­ed ver­ti­cal and two- rev­o­lu­tion ver­sions, and there are also mod­els suit­able for two-colour print­ing and high speed ful­ly auto­mat­ic models.
As print­ing machines became more com­plex a whole indus­try sup­ply­ing machin­ery to the trade grew up. As a major cen­tre of the print­ing trade, Edin­burgh was also home to a num­ber of these firms as well as firms sup­ply­ing machines to allied trades such as paper mak­ers. Well-known print­ing-press mak­ers include Thomas Long and Patrick Ritchie.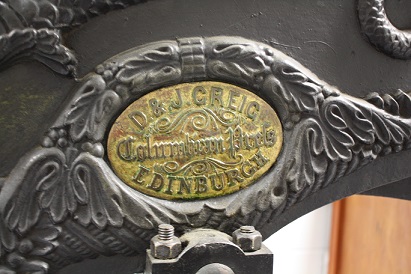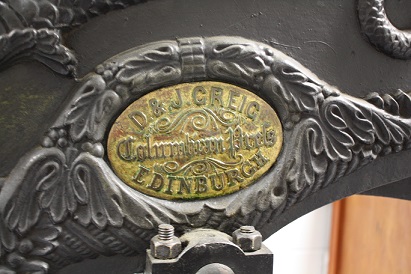 The third edi­tion of Kel­ly's Direc­to­ry of Sta­tion­ers, Print­ers, etc, pub­lished in 1880, not only lists print­ers, pub­lish­ers, book­binders and sta­tion­ers but also includes many com­pa­nies mak­ing every­thing from 'Book­binders' Thread' to 'Paper Mak­ing Machines'. Some of these firms were large oper­a­tions and sup­plied print­ing firms through­out the world, includ­ing John Greig & Sons, of Foun­tain House and the paper mak­ers' engi­neers com­pa­nies Bertrams of Sci­ennes and James Bertram & Son at the Lei­th Walk Foundry.
Greig's made press­es for print­ers, book­binders and lith­o­g­ra­phers, and their out­put includ­ed enve­lope mak­ing machines, copy­ing press­es and numer­i­cal print­ing machines. Oth­er com­pa­nies who were based near Greig's in the Foun­tain­bridge area of the city were Somerville & Crom­bie who also made press­es for the print­ing and book­bind­ing trades, as well as paper­mak­ing machin­ery, Walk­er & King who sup­plied the paper­mak­ing indus­try from the Cale­don­ian Engine Works in West Foun­tain­bridge. Seg­gie & Co were based fur­ther east in Broughton Market.